Three groups collaborate to open young minds to the wonders of engineering.
Image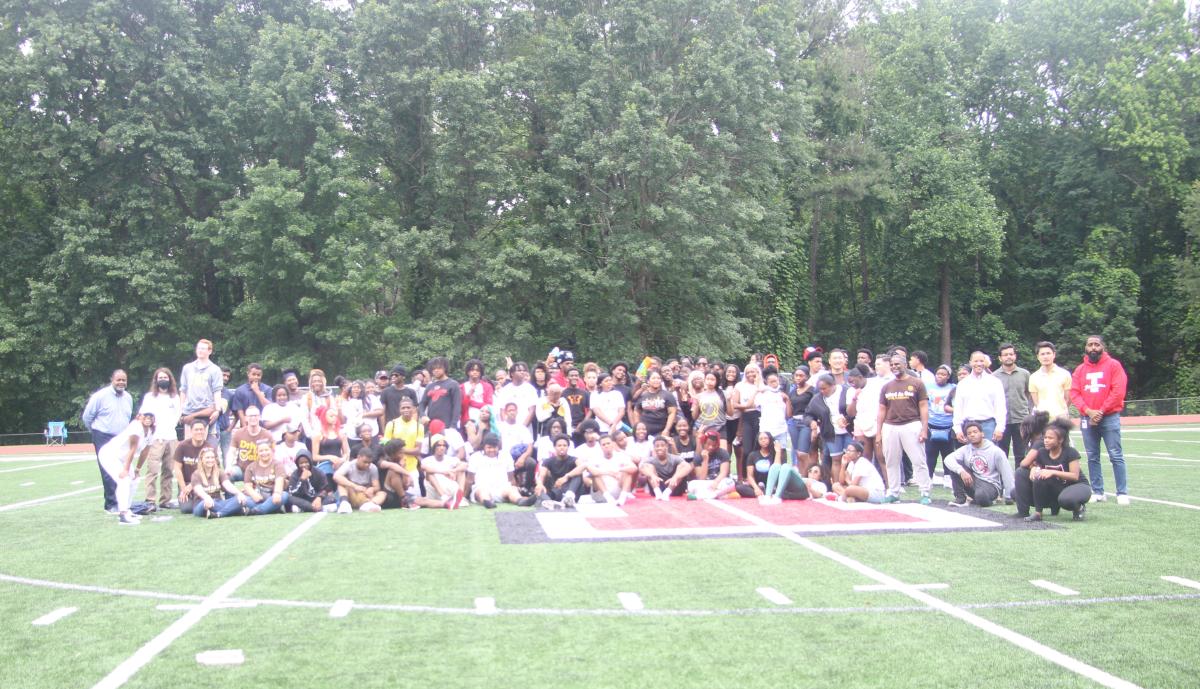 Georgia Tech (Tech), Lens.Vegas, and the United Parcel Service Inc. (UPS) teamed up at Therrell High School to give seniors a unique opportunity to explore the engineering field through engaging and interactive drone and robotic demonstrations. Presentations hosted by Tech students, faculty, and alumni provided a hands-on experience and insight into the various aspects of engineering.
Mitchell Walker, associate dean for academics, Youngjun Choi, director of advanced AI and robotics at UPS Advanced Technology Group, and Tiffany Tesfamichael, director of Drone Experience Team and head of Learning at Lens.Vegas came out to support the collaboration.
"Georgia Tech is always happy to support local high schools. We strive to create meaningful experiences for students and expose them to the vast possibilities that await them in engineering and technology."
Image
Left to right: Tiffany Tefmichael, Ian Boraks, Dylan Wyckoff, Simeon Salia, Mitchell Walker, Andy Kapperman, and Guru Ganesh.
Image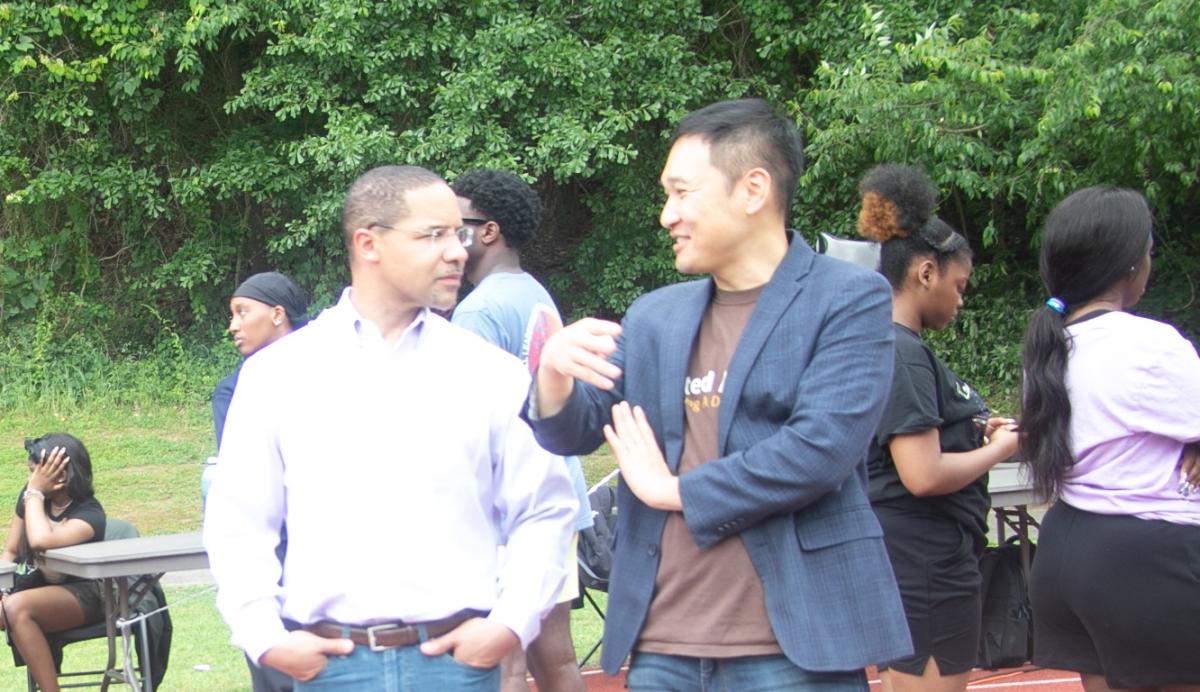 Mitchell Walker and Youngjun Choi, Ph.D. AE 2016, M.S. AE 2013
Flying Into the Wild Blue Yonder
Tech students Ian Boraks (CMPE), Dylan Wyckoff (CS), Andy Kapperman (AE), Guru Ganesh (AE), and Simeon Salia (AE) served at the drone exhibit and engaged budding young minds.
Under the instruction of Georgia Tech Rotorjackets President Boraks, students heard about the basics of drone piloting and control. Students interacted with drones and witnessed their capabilities up close. They found out about the various components of drones, including the flight controller, motors, propellers, and cameras. Additionally, they discovered how these components worked together to enable flight and perform specific tasks. Boraks dared them to break a piece of the carbon fiber because it is a core component of the drones they built. Students stomped and tried to break it to no avail.
Boraks and Wyckoff, RotorJackets treasurer, provided practical insights into the real-world applications of drones across different industries. Students learned about the diverse fields where drones are used, such as aerial photography and videography, surveying and mapping, search and rescue operations, and delivery services. This exposure to various applications sparks curiosity and encourages future graduates to envision potential career paths within engineering.
During the demonstration, Wyckoff skillfully operated the drones sending them above the tree line and across the football field. The onlookers couldn't contain their enthusiasm as the blue, light-framed drone zipped through the air, eliciting cheers and screams of joy from students at other stations. To further enhance the experience, students had the opportunity to don goggles, providing a bird's eye view as the drone soared overhead. They also had access to a monitor displaying the drone's flight, further immersing them in the experience.
Image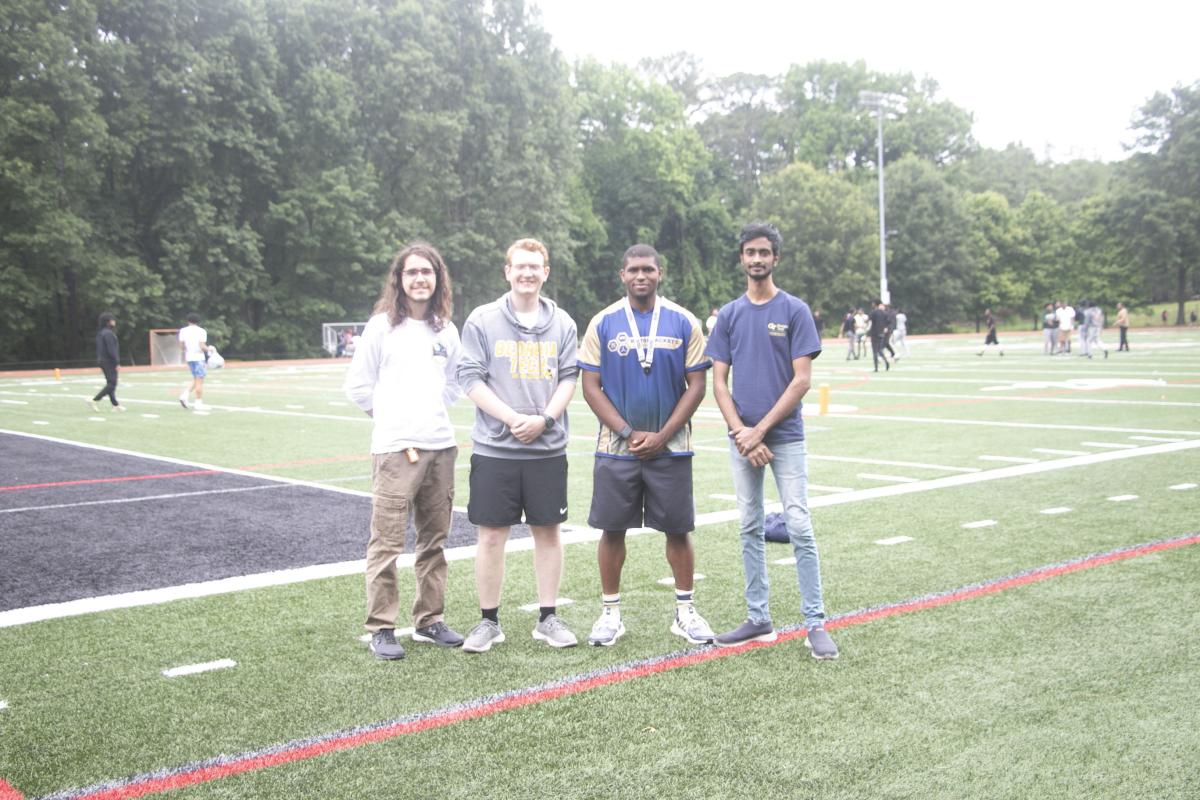 Left to Right: Kapperman, Boraks, Wyckoff, and Ganesh
Image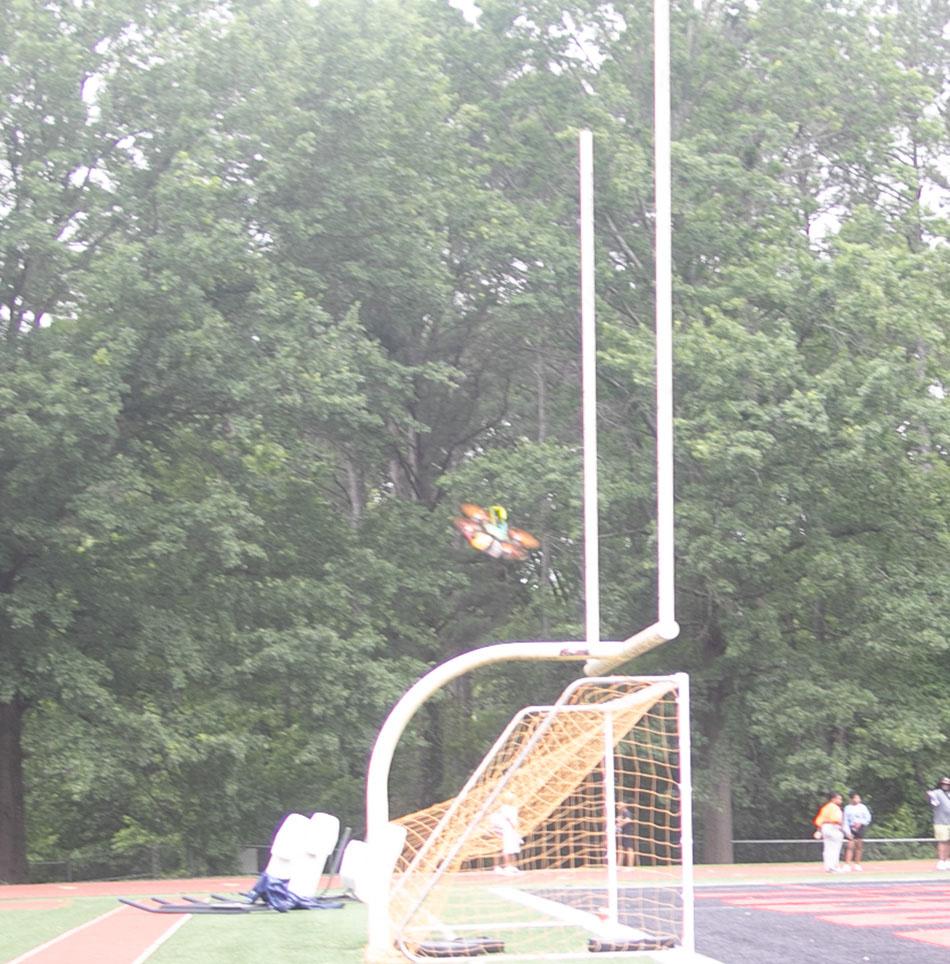 Image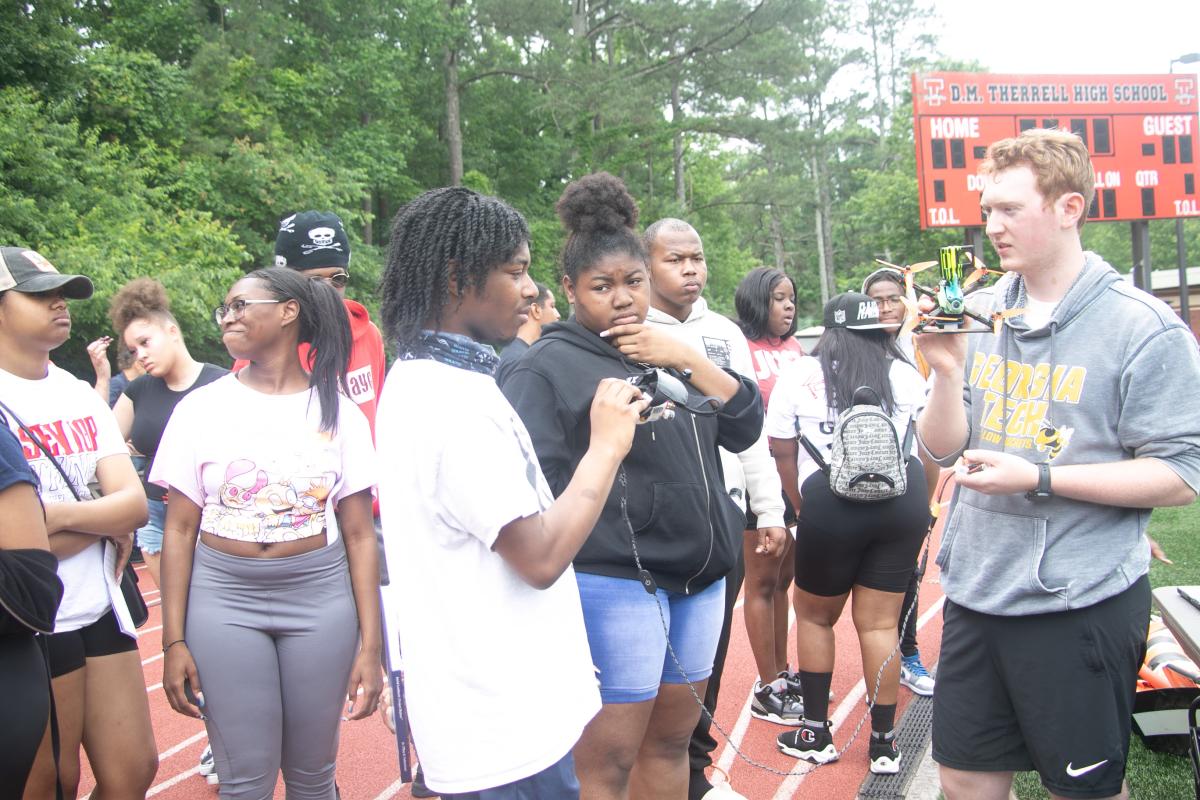 Image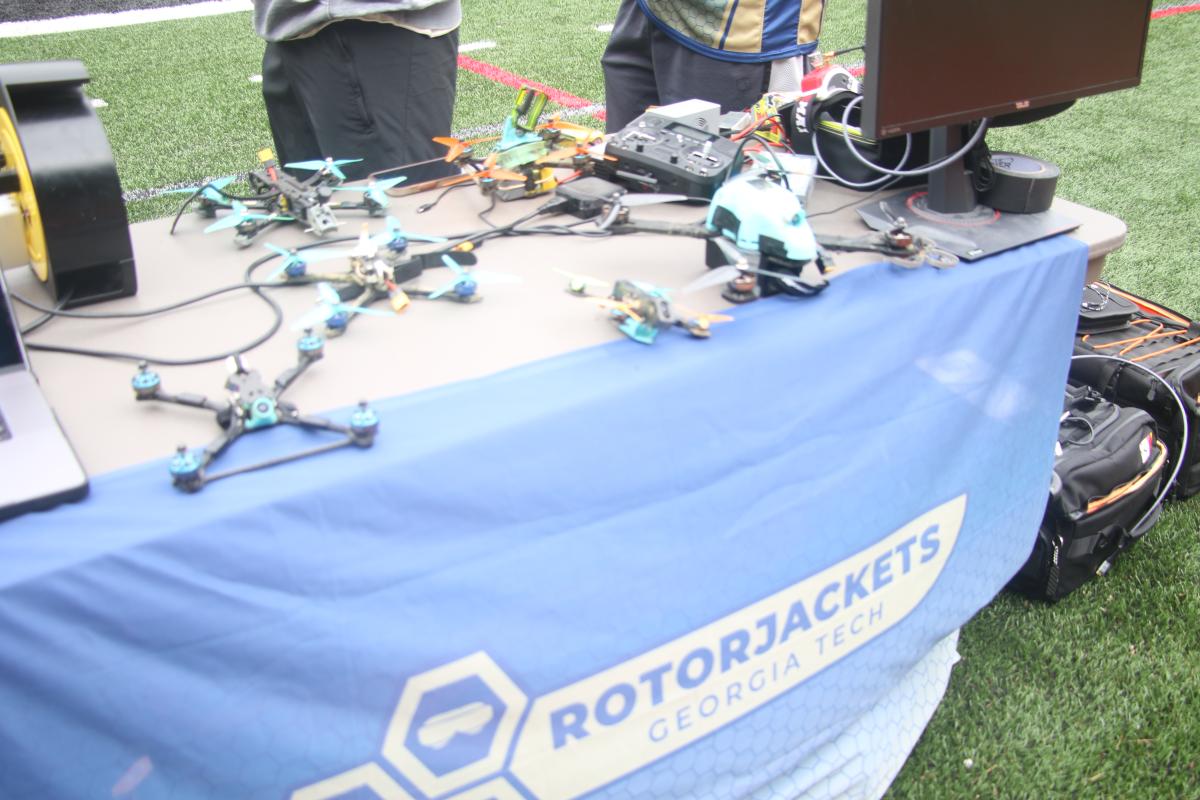 Image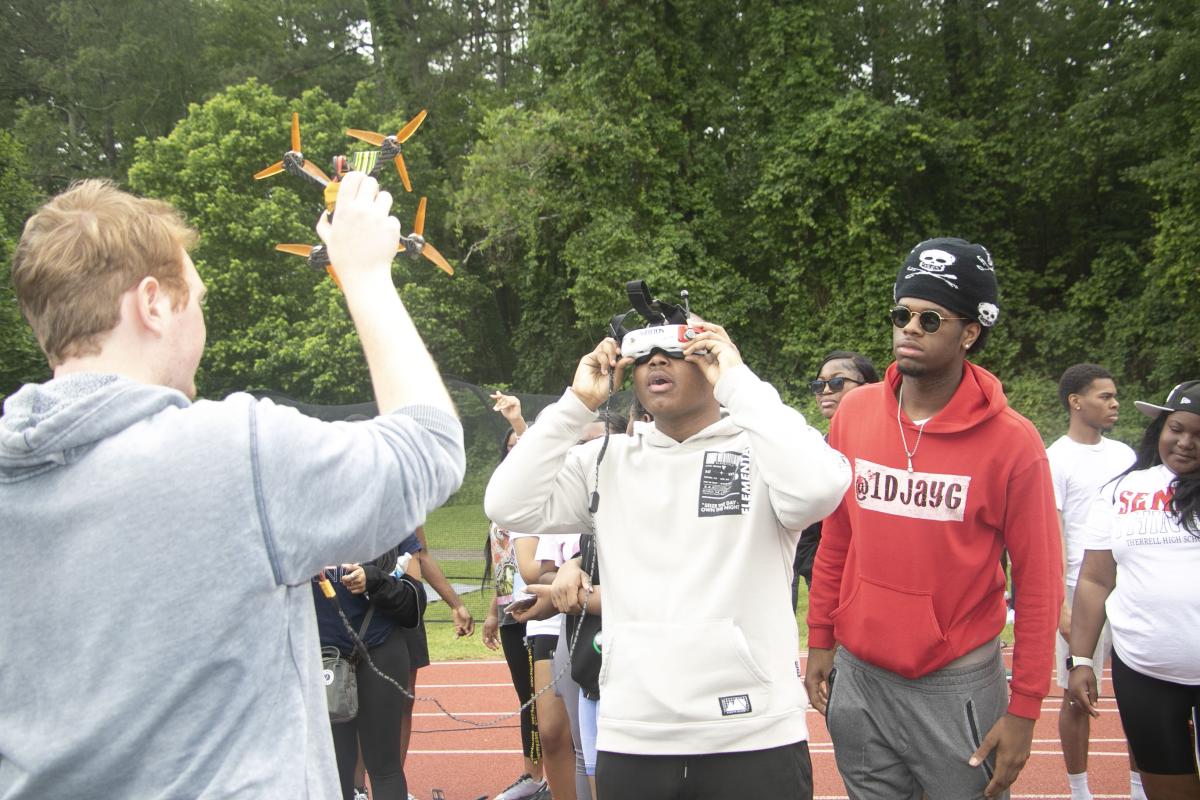 The UPS team instructed students on operating and navigating a drone to deliver cargo accurately to a specific target. This exercise illustrated the fundamental principles of flight, aerodynamics, and the significance of precision and control in engineering. In 2019, the Federal Aviation Administration authorized UPS to conduct limited drone delivery services in the United States. The hands-on exhibit at Therrell High School served as a tangible demonstration by emulating a real-world drone operation on a smaller and simpler scale.
Image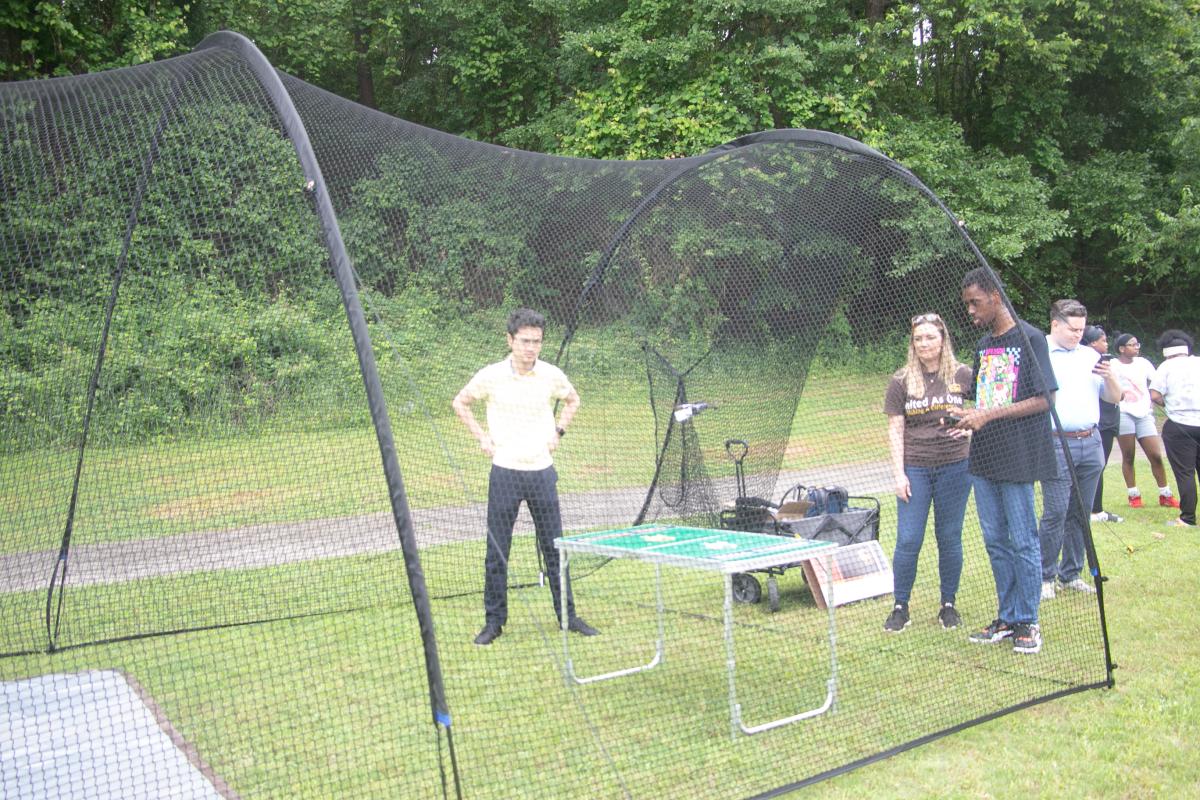 Image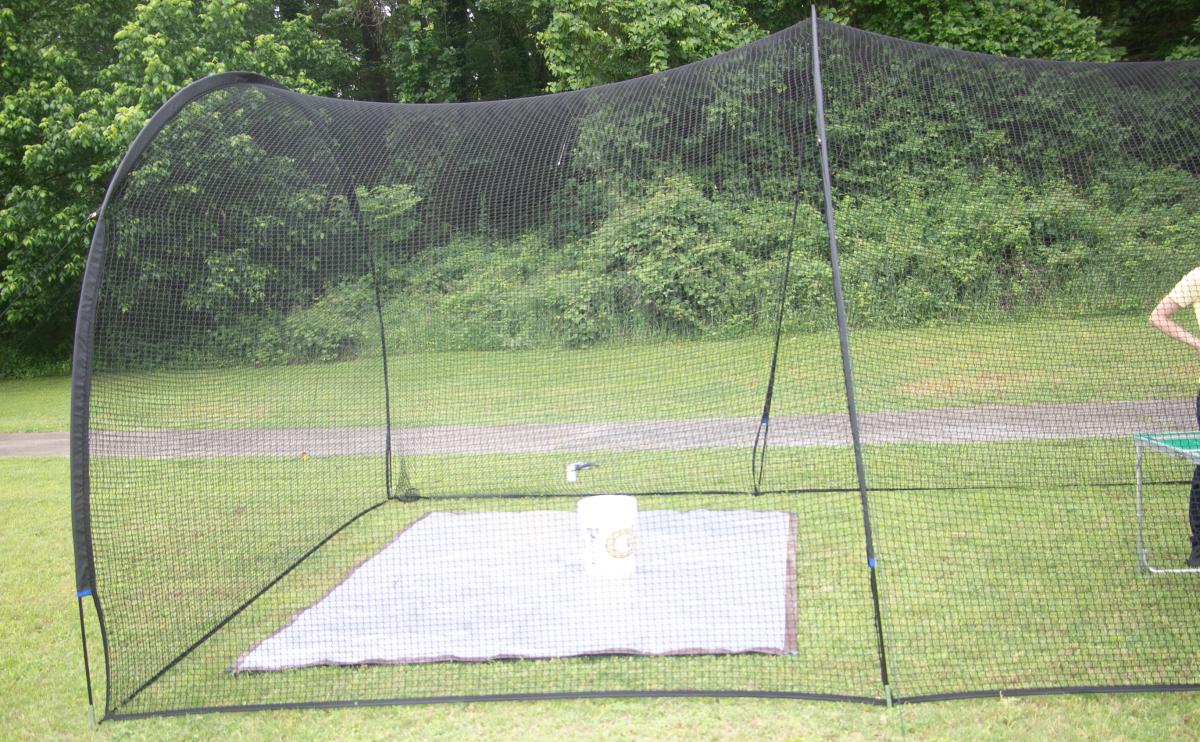 Not only did the UPS team provide instructions on cargo delivery maneuvers, but they also facilitated an engaging experience for the students by introducing them to a robotic canine. The demonstration left students spellbound as they watched the four-legged dog dance and prance with graceful and fluid movements. Students eagerly awaited their turn to maneuver the robot, guiding it through different poses and actions. They quickly grasped the fundamentals of robotic navigation and were able to see the robot's unique capabilities and functionality firsthand.
Image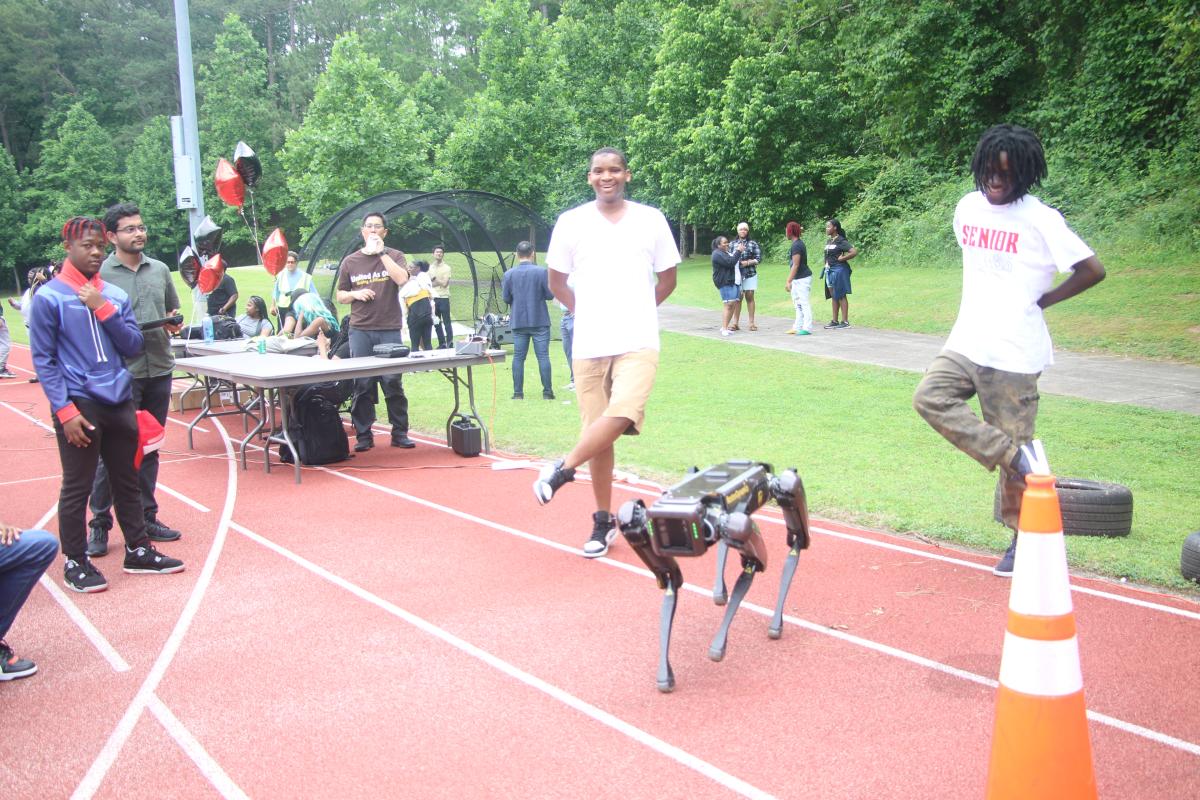 During the visit, Tesfamichael answered student questions and shared her recent publication, Aerial Lookbook, Unleashing Drone Literacy for Inclusive Skies. The book includes 100 immersive aerial views taken from drones and was released on February 19, 2023, marking the 81st anniversary of the Tuskegee Airmen's initiation into the United States Armed Forces.
"I came to Georgia Tech at 16, and that taught me to challenge norms. Like 'why is it common to know the rules of the road and not the rules of the sky?' I wholeheartedly believe drone literacy will reframe how tomorrow's learners relate to aeronautics and empower them to disrupt the commonplace. Normalizing the rules of the sky is one of the most interesting and meaningful missions to engage in right now," said Tesfamichael.
She became interested in aerospace after meeting faculty from the Daniel Guggenheim School of Aerospace Engineering at an Office of Minority Educational Development Focus program. Soon after that connection, she toured the John Harper Wind Tunnel and the High Power Electric Propulsion Laboratory and was hooked. She later pursued an F.A.A. Part 107 Class Drone license and started running weekend drone workshops for kids, which inspired her book.
"Exposure to different disciplines, different ideas, different representations, and different interpretations of STEM concepts in a fun environment is what I believe unlocks curiosity in learners," Tesfamichael remarked.
Image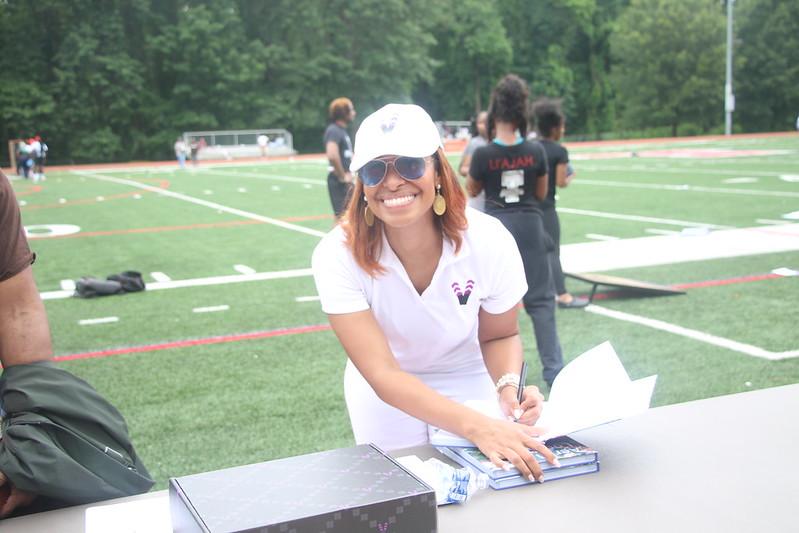 Tiffany Tesfamichael, B.S. Arch 2002, M.S. Arch 2004
Image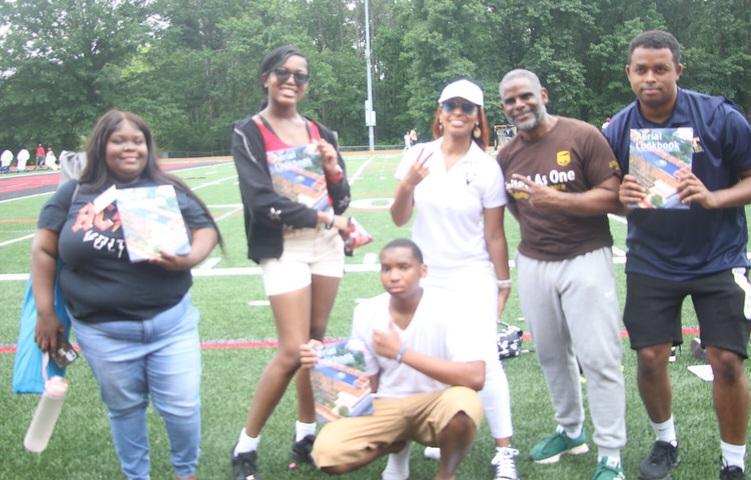 Contest Winners and Volunteers
Image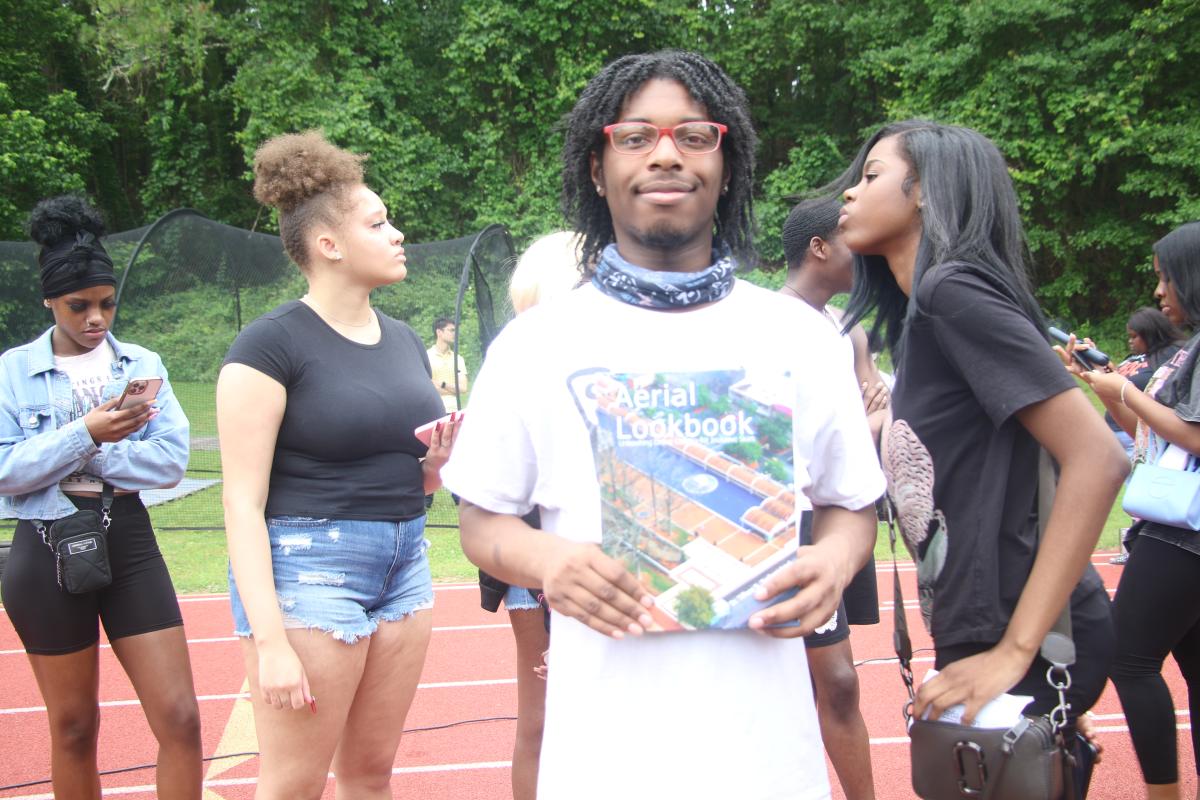 Therrell High School Student