The $250,000 scholarship will go towards her research interests in space plasma physics.
Daniel Guggenheim School graduate Adele Payman (B.S.A.E. 2023) is among the 15 Hertz Foundation Fellowship scholars selected to further their innovative graduate research. As a Hertz Fellow, she will receive $250,000 over a five-year period to work on theory and experiments to better understand astrophysical plasmas and solar flares.
"It's a huge honor to be awarded a Hertz Fellowship. It also comes with a responsibility to commit to using your skills to help the nation in a time of crisis or a time of national emergency, and I think that's a very powerful pledge that resonated with me. I also feel very honored and grateful to Georgia Tech and the opportunities that I had in the AE School and outside of it," she shared.
Payman was born in London and moved to California when she was 16 years old. Growing up, she always had a fascination with space and was really interested in physics, the perfect formula for an aspiring aerospace engineer.
Image

Ready for Liftoff
 
Outside of her classwork and research, Payman led the Yellow Jacket Space Program (YJSP) – a club that designs, builds, and flies liquid-fueled rockets. YJSP has an ambitious goal of flying a rocket to the Karman Line, the official edge of space 100 km above the Earth. As president, Payman developed her public speaking skills and planned logistics for rocket tests and launches.
"I think that it's really valuable to get leadership experience, especially as an engineer. So much of the work that engineers do is contingent on how well they can work in a team," she shared. "Luckily, we have a lot of really great students and leadership positions, so I had a lot of support. Overall, it was a probably the most rewarding thing I did in college."
The team recently hit a major milestone of launching 20,000 feet in the Mojave Desert and just released a short documentary of the launch.
This fall, Payman plans on pursuing her doctoral program in applied physics at the California Institute of Technology after completing a summer internship with Sandia National Laboratory in New Mexico working with the Pulsed-Power Science and Technology group.
Blank Space (small)
(text and background only visible when logged in)
Blank Space (medium)
(text and background only visible when logged in)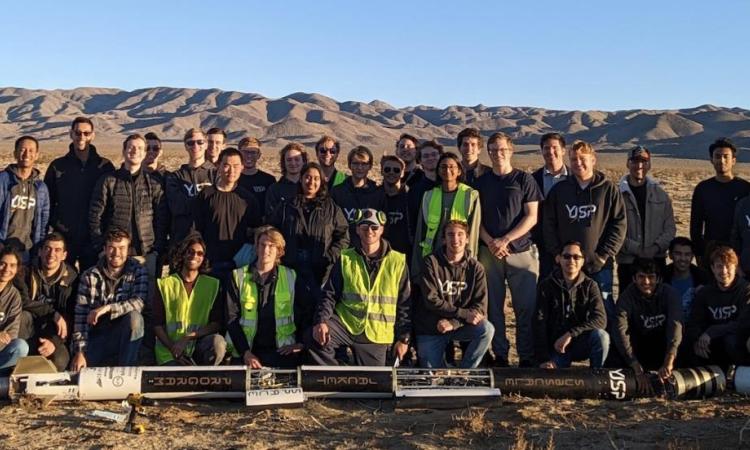 The Yellow Jacket Space Program (YJSP) crew prepared to witness the culmination of five years of work as the countdown began to launch of their subscale liquid-fueled rocket.