Marc Canellas is bringing his AE doctorate to Washington, where he will complete a year-long public policy fellowship before starting law school.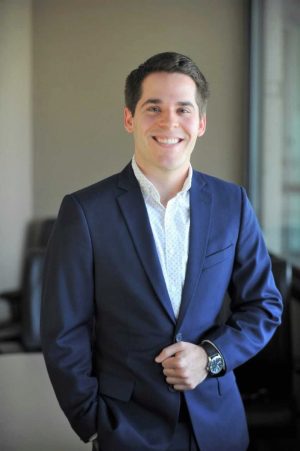 Policy Matters.
Marc Canellas, Ph.D. AE '17, is heading to our nation's capitol to serve a one-year fellowship in Congress. After that? Law school.
By his own admission, Marc Canellas is living out the best -- and the worst -- predictions of a storied curse:
'May you live in interesting times.'
"That really describes where we are, with technology. And that's what fascinates me," says the recent AE doctoral grad.
"There are so many interesting things we can do with technology…and there are so many ways we could do it wrong."
Canellas, 27, sees a career in that challenge – one that he's fashioning to fit his encyclopedic interests. Doctorate in hand, he is heading to Washington, D.C. this fall, where he will serve as a technology consultant on Capitol Hill under the auspices of a year-long IEEE Congressional Fellowship. When that's finished, Canellas will head off to law school.
"I want to help political leaders make better decisions with respect to balancing technology and morality," he explains.
"It's fine that Georgia Tech doesn't take sides in political debates, but that doesn't mean we [graduates] should ignore politics and policy making. So much of the policy that is created now is integrally tied to technology. We are in a unique position to inform the dialog, to make sure that the best information is out there before the policy is finalized."
Canellas comes to this unique perspective by way of cognitive engineering, a discipline that focuses on the analysis, design, and evaluation of complex socio-technical systems of people and technology. Under the tutelage of his advisor, Prof. Karen Feigh, Canellas has explored many of the dynamics that impact the human/technology interface – a variety of scenarios that critically influence the effectiveness of airplane, helicopter, and spacecraft pilots.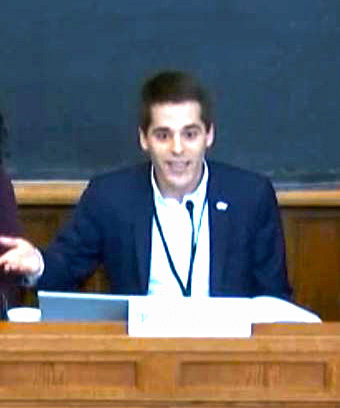 Making the Case. Canellas is seen, here, discussing law and policy implications of cognitive engineering research at Yale University's WeRobot conference, the premier robot law conference.
"One of the questions that interest  me is how do you design decision-support tools for pilots that support their  decision-making in imperfect  environments – one where they don't have all of the information or where they have to interpret a lot of data to get the best option. How is this imperfect environment affecting your perception of the options?" he says.
"There might not be time to determine the best course of action. Can we optimize the way options are presented so that you can make the best decision in the time you have?"
His doctoral research, "Decision-making with Incomplete Information" sought to provide a practical foundation for pilots to make better decisions.  Eventually, his findings could provide our military strategic insight into the decisions of our adversaries - helping the US to simulate the movements of foreign pilots.
We developed a computer simulation that integrates a large number of decision-making theories into one model that aggregates different components and tests them to see how they will affect your decisions. It can help us to determine what interface will give the best outcome in terms of decision-making," he explains. "That can help us design robust and useful decision-support tools."
Having recently been invited to present his doctoral research before both the Office of Naval Research and Yale University's WeRobot conference, Canellas knows this perspective has sparked serious interest among both military and civilian entities. The potential applications are many and compelling. He also knows that he might need to nudge things along. That's where the law degree comes in. 
"I've seen [Cognitive Engineering Center director] Dr. [Amy] Pritchett present really great research on collision avoidance or pilot training but in the end, it's the lawyers and policy-makers who decide how it's going to be implemented," he says.
"And the more I did this work, the more I realized that all of my own questions were legal ones. Things like how 'how much evidence do we need to make this case?' or 'how do you make sure that you are taking all of the stakeholders into account?' If I really want to make cool things happen, I need work it from the legal world as well."
Canellas originally planned to attend law school this fall, but, when the IEEE Congressional Fellowship came through, he jumped at the opportunity to gain some policy perspective.
"I'll be re-applying in the fall," he says. "I got in before, so, hopefully, it will work out again."
If the past is any indication, it certainly will. Canellas was offered admission to eleven of the 14 top-ranked law schools on his first try. He also had an enviable choice when it came to his grad school admission.
"I was offered admission and a fellowship at another highly ranked aerospace school, and I thought that's where I'd go – until I visited them and Tech," he explains.
"At the other school, they had said, essentially, 'You'll be lucky to have our name associated with your degree when you finish. We have a good reputation.' At Tech, Dr. Feigh and Dr. German said something completely different.  The polar opposite. They said, essentially, 'We're a good school, and we're doing great things. We think you can help us go from good to great.'  That really hit me. Georgia Tech doesn't wear its reputation like a crown. Tech really sees its students as the lifeblood of its reputation. That was a huge difference. And that made the difference."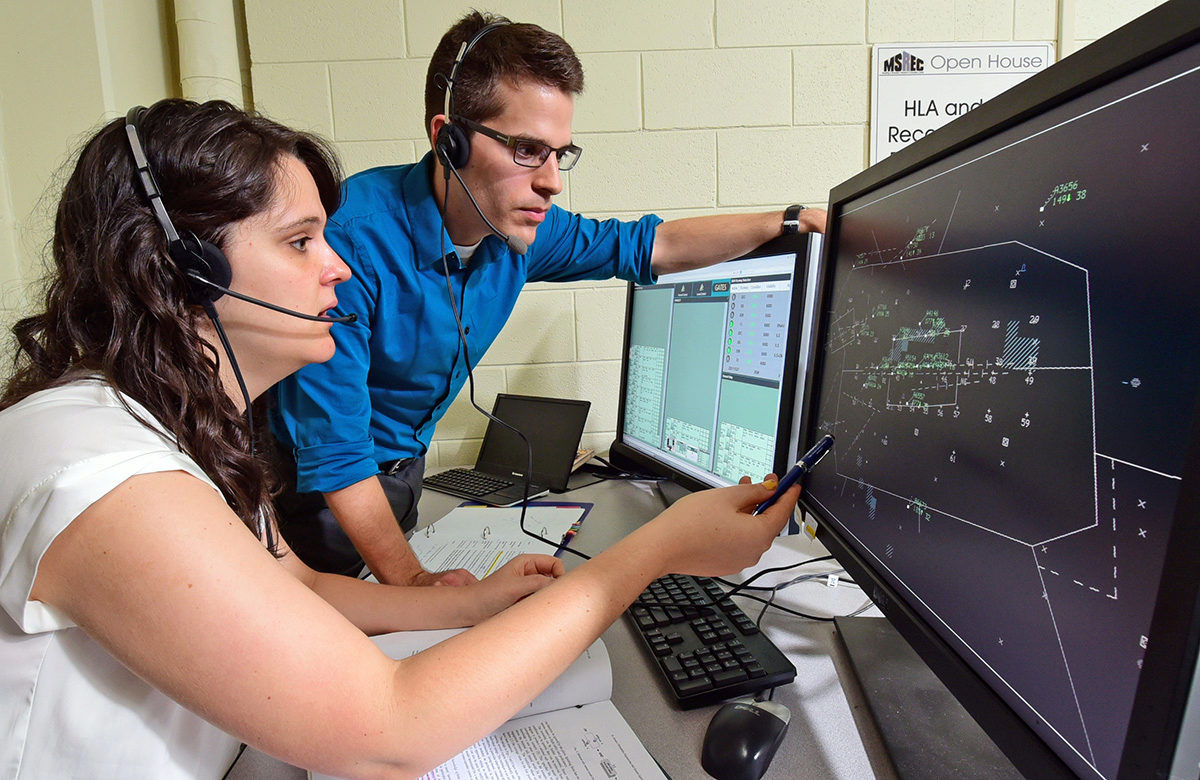 Data is Power. Marc Canellas and fellow doctoral student (and fiancee) Rachel Haga have spent many hours in the Cognitive Engineering Center's simulation lab. In addition to the IEEE Fellowship that will fund his work in Congress next year, Canellas has (during his tenure at Tech) received a National Science Foundation Fellowship, a Goizuetta Fellowship, and a Campus Life and Community Service Fellowship. The former president of the Georgia Tech Graduate Student Senate learned early on that policy makers are as important as engineers when it comes to the future of aerospace.