Image

Your Support Matters. A Lot.
The Daniel Guggenheim School of Aerospace Engineering is named after one of our most celebrated supporters, philanthropist Daniel Guggenheim. But AE would not be one of the top-ranked aerospace engineering schools in the country if our support stopped there.
The alumni, faculty, staff, parents, and friends of AE are the bedrock of our success, providing the technical direction, financial support, and career connections that ensure that our future is as bright as our legacy.
That support translates to impact - as an educational resource and a beacon of research: US News & World Reports has consistently ranked both the undergraduate and graduate programs of the Daniel Guggenheim School of Aerospace Engineering in the top 5 nationally - #1 among publicly funded schools. We out-perform many better-funded private institutions simply because we've had the will and the vision to work a little harder, a little smarter.
That same formula will serve us well as forge our future. To meet the growing demands of our students, faculty, and industry partners, the Daniel Guggenheim School must invest in more faculty, revamped classrooms, modernized labs, and cutting-edge equipment. We need to aggressively support our best students with grants and fellowships, our best faculty, with endowments that allow their most innovative thinking to flourish.
In short, we need to work a little harder, a little smarter.
To learn more about how you can offer your support, contact AE development director, 
Blank Space (medium)
(text and background only visible when logged in)
AE Faculty Support 
More than 40 AE faculty and research engineers are involved in areas of research and education and the School is either home to, or a key player in, five research centers and consortia. The School is committed to attracting and retaining a world-class faculty with the character, determination, and aptitude to meet the demand of a first-rate technological education and to use that education to improve the world around them. To affirm and ensure Institute commitment to the program, the academic salary for the holder of the chair or professorship will be paid from Institute funds, enabling funds generated by the endowment to be utilized by the chair or professorship holder for the purpose of program development.  
Named opportunities available beginning at $25,000. 
AE Student Scholarships: Attracting the Best
AE student scholarships and graduate fellowships help AE attract the best candidates into our highly productive undergraduate and graduate program. This has a domino effect. As more top-level grad students flock to AE, more competitive research funding will flow to our labs. The more competitive our research program is, the better we will be able to place our grads in leadership positions -- in academia, industry, and government -- around the world. A scholarship carries on the legacy for student support at Georgia Tech. 
Named opportunities available beginning at $25,000. 
Chair's Discretionary Funds: Supporting Academic Freedom
Support of the school chair's discretionary endowment would provide ultimate flexibility for the School's most pressing priorities. Endowments are built to last in perpetuity at Georgia Tech, and, during the course of decade and even centuries, priorities will change to adapt to modern initiatives and a rapidly changing global economy.  A chair's discretionary endowment would allow the current and future leadership to take advantage of emerging trends in education, support underrepresented students knowing those targets can change, and provide of faculty incentives, facility needs, or programmatic advances for the School.
Named opportunities available beginning at $25,000. 
Capital Improvements
New and renovated facilities are no longer possible without support from private donors. Our top priority is the renovation of Georgia Tech's AE building complex. We envision a renovated facility that will serve as an inspirational location for students to gather and direct the future of Aerospace Engineering. Much of the renovated space will be designated as student-centered laboratories, collaborative learning space, and a design and manufacturing space.
Named opportunities available beginning at $25,000. 
Your support makes a difference for current and future generations of Georgia Tech students. Whatever gift vehicle you choose, the Office of Development is here to help you realize your philanthropic aspirations.
Blank Space (small)
(text and background only visible when logged in)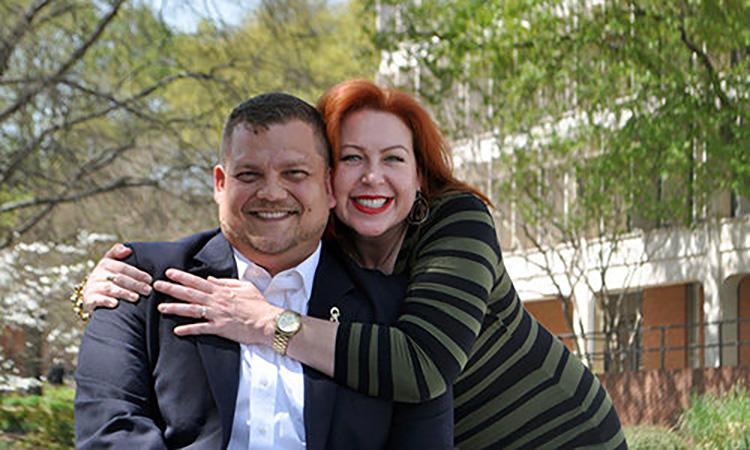 Andrew, AE 2007 and Stephanie Ollikainen: Giving Back to Tech is a Labor of Love
The road that took Andrew Ollikainen from working construction to earning three engineering degrees and a career at Northrop Grumman starts --and ends-- in the same place: hard work.
Blank Space (medium)
(text and background only visible when logged in)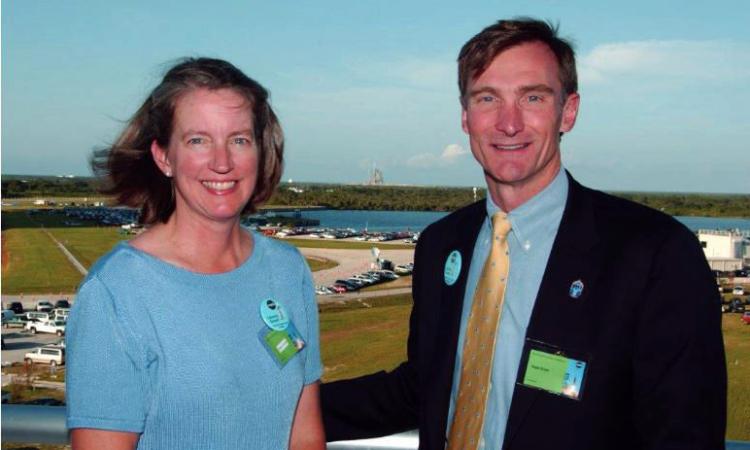 Helen and Roger Krone, AE 1978: Supporting the Dreams of AE Students
A recent provision made by Helen and Roger A. Krone, AE '78, has enabled the Daniel Guggenheim School of Aerospace Engineering to significantly increase its commitment to faculty support and exceed  its 11-year, $25 million Campaign goal.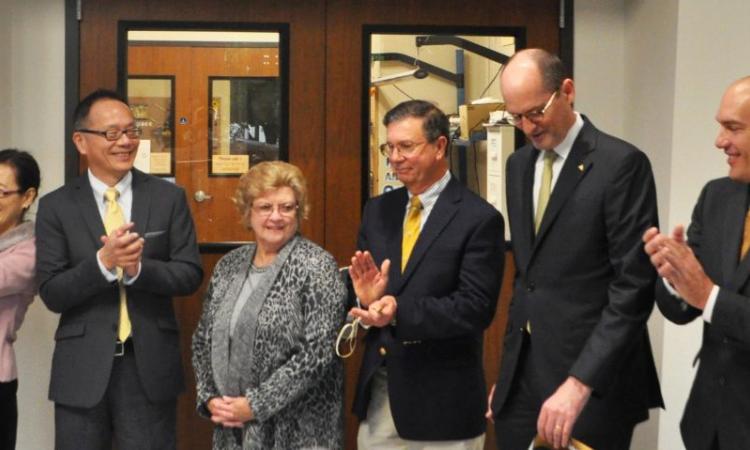 Ray T. Muggridge III, AE 1970 and Nancy Muggridge: Creating Space for AE's Shining Stars
The Yang Aero Maker Space is a place nestled in the AE School that fosters creativity, design, and community. Made possible by Ray T. Muggridge's support, the lab was named in honor of Vigor Yang, who served as chair of the AE School from 2009 to 2018, and his wife Dorothy.